Lake Carolina Wine & Food Festival Raises $16,000 for
Children's Charities of the Midlands
COLUMBIA, SC – Lake Carolina's Annual Wine & Food Festival, which took place in October experienced a record number of attendees. Guests sipped & savored some of Columbia's best food & wine on a beautiful fall afternoon on the Village Green at Lake Carolina. Proceeds from the event benefitted Children's Charities of the Midlands, in which two special charities were chosen.
Palmetto Health Children's Hospital received $10,000 for their Palliative Care program. The program helps children and their families to achieve the best quality of life when living with life-limiting and chronic illnesses. This program provides comprehensive services to alleviate distressing symptoms; be they physical, psychological, spiritual, educational, or social. The team consists of a physician, nurse, child life specialist, social worker, and chaplain and is involved with the patient from the onset of their condition and works cooperatively with the primary physician providers as (potentially) curative therapies are pursued. Patients with cystic fibrosis, HIV, cancer, neurologic disorders, metabolic diseases, extreme prematurity and major trauma can benefit from Palliative Care services. Patients care for by Palliative Care teams have greater symptom control, spend less time in the hospital, have shorter hospital stays, and indeed, live longer than similarly matched patients not receiving Palliative Care services.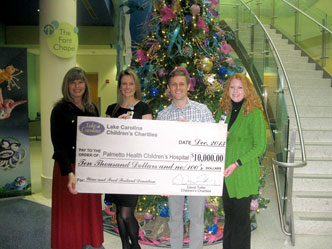 The pediatric palliative care program at Children's Hospital helps improve the physical, emotional and spiritual health of patients and families affected by potentially life limiting illnesses. Often times, our 'comfort cart' becomes a critical tool for helping patients feel normalcy. It contains items such as pajamas for an image conscious child who is facing a hospital stay for dialysis as well as books and resources to help a child understand why a sibling has to stay in the hospital for an extended period. Because of the generosity of volunteers and supporters of the 11th Annual Wine & Food Festival at Lake Carolina, we can continue to offer these items," said Debbie Kamowski, COMPASS
Team nurse coordinator, Pediatric Palliative Care, Palmetto Health Children's Hospital.
Abundant Life Lending Library in Lake Carolina received $6,000 from the
Wine & Food Festival. The additional funds will help Columbia area children
receive equipment to recover from devastating illnesses and accidents. Columbia did not have a durable medical equipment library. Abundance Life Equipment Lending Library, located at the Village Green, was established in October 2010 to meet this need.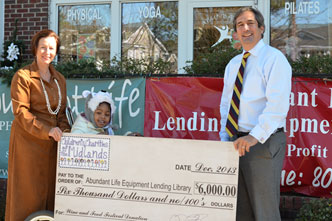 "It's only fitting that a portion of funds raised during this year's Lake Carolina Food and Wine Festival would go to help one of the organizations located in our own Village Green," said David Tuttle, President Lake Carolina. "We appreciate Kathleen's dedication to improving the lives of our neighbors and children throughout the Midlands."